Water in your home and factsheets
Water in your home and factsheets
Our drinking water is of the highest standard when leaving our treatment works but we know that customers' pipework and repairs to our mains network can affect the quality of water coming out of the tap.

We encourage anyone having work done on their household plumbing to use trusted and qualified plumbers registered with the industry body WaterSafe. These plumbers have undergone specific training in the Water Fitting Regulations and byelaws which are designed to keep customers' drinking water safe.
Find out more information on finding a plumber

Looking after water in your home
This guide from the Water Regulations Advisory Scheme includes everything from tips on tap hygiene to advice on safe water storage and how to prepare for winter.
Learn how to look after water in your home
Which pipes are yours?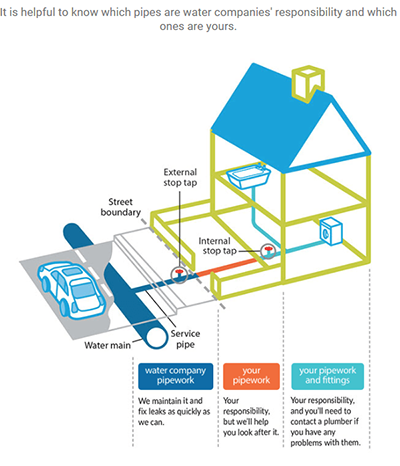 You are responsible for all external and internal pipework within your property boundary.
Useful information
Our factsheets give you key information about your water supply: