Help paying your bill
Help paying your bill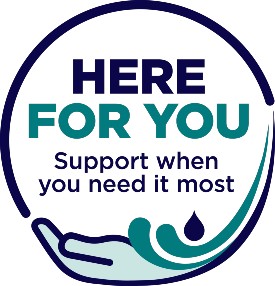 If you're having difficulty paying your bill, the sooner you tell us the better. We can't cancel the bill, but we may be able to suggest more manageable payment options.
This page provides information on the additional support and payment schemes we offer and advice for customers facing debt.
Water Support Scheme
What is it?
A 50 per cent bill reduction that is funded through adding £6 to other customers' annual bills.
Who is eligible?
You could be eligible for this scheme if your yearly gross household income is:
Less than £16,385 before any deductions, if you do not live in a London borough; or
Less than £19,747 before any deductions, if you do live in a London borough

Disablement benefits are not included as income.

Breathing Space
What is it?
A way to pause payments if you need help getting back on your feet.
Who is eligible?
Customers who have had a change in certain personal circumstances that has had an unexpected negative impact on income; such as illness, redundancy or bereavement.
Breathing Space application form
WaterSure
What is it?
A capped tariff for metered customers so you pay whichever bill is lower – the one based on your actual usage, or an average household bill.
Who is eligible?
Only applies if your property has a water meter and:
Someone who lives there is on specified benefits or tax credits, and
You have three or more dependent children under 19 living with you, or
You or another person living with you suffers from a qualifying medical condition which means they use significantly more water

WaterDirect
What is it?
We may be able to arrange for your payments to be deducted directly from your benefits so you never have to remember to pay a bill.
Who is eligible?
Customers on certain benefits.


Alternatively you can contact us and we can send you a form in the post.
Debt advice
We have listed various organisations that could help you manage your debt:
StepChange Debt charity is the UK's leading provider of free, impartial debt advice and solutions
Citizens Advice provides free, impartial, confidential and independent advice in person
National Debtline provides free help and advice on dealing with debt
Money Advice Service helps you manage your money better
Christians Against Poverty working to release people from debt, poverty and its causes

Our Code of Practice
Our Code of Practice on debt for domestic customers provides lots of information and about how we can help and advice on the steps you can take.
See how we can support you
We understand that sometimes circumstances can change for lots of reasons and we want to support you as best as we can.
If you are struggling to pay your bill, you can get in touch in two ways:
Complete our debt recovery form
Alternatively, if you would prefer to talk to someone you can speak to our dedicated team on 01737 772000