New connections
We have a specialist Developer Services team to guide you through your new connection and can arrange for a site survey and a quotation for the work required.
New connections
Making an application for services
We have a single process for handling small and larger developments. It is designed to capture all the data our Developer Services team need to create a quote for your new connection to our water network.
Before submitting the application form please make sure you have all the available information and documents to hand. Please find below the checklist of possible information that may be required:
Location plan preferred scale of 1:2500
Site layout plan (preferred scales of 1:250, 1:500 or 1750)
Plan showing the connection 'Point of Connection' and pipe run for the individual plot/s and any 'Temporary Builders Supplies' is included?
'Point of Connection'
Details of existing utility services on, or next to, the site
Plan showing designated utility services strips
Plan of any area proposed for adoption by Highways Authority has been included?
Risk assessment for water pipes has been included
Pipe layout plan
Internal pipe schematic
The Health and Safety Executive (HSE) F10 notice
If your development is for trade, business or community use, and will last longer than 30 days we will need a copy of your HSE F10 notice
Written permission from the landowner of any privately-owned land we need to cross to lay your pipe
Sprinkler system schematics for the site
If you require a 'Fire Supply', the schematics for the system
You can download a copy of this checklist here.
To simplify the process, we ask that if you are planning to develop premises that will have a postal address, you seek the postal addresses from the appropriate Planning Authority at the earliest opportunity, as we will require this before connection takes place. Details of how to do this can be found through the following link.
Upon verifying that we have all the necessary information to assess your application fully we will request payment of your Application fee. The request will include a payment reference that must be quoted when paying your applications fee. Failure to do so will delay your application.
Once we have confirmed we have received all the above we will provide an estimate for the work required within 28 calendar days. Please familiarise yourself with our New Connections process, it gives you an overview of the process you are following and will help you with planning your build and administration tasks: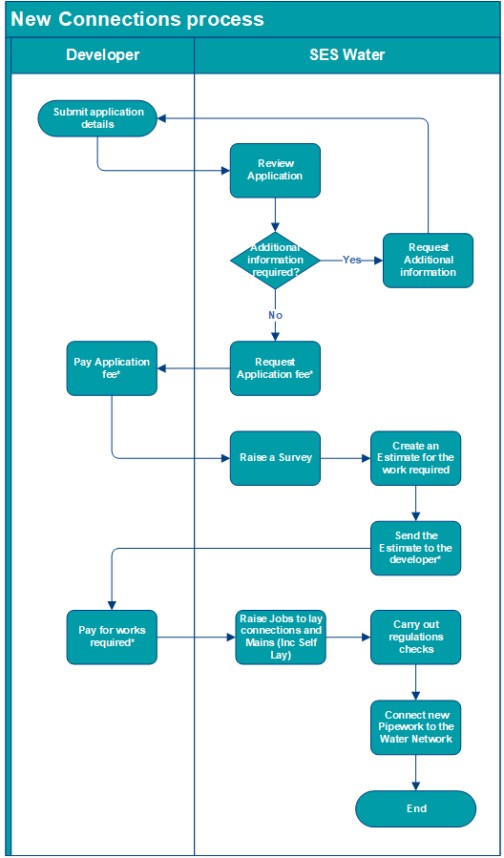 We fully understand that this can be a complicated area. Therefore we of course can tailor your specific requirements with our specialist in-house design team to guide you through your new connection.
New housing or commercial development requiring a water main extended into the site for connections to be made, we can provide a full quotation, design and delivery service, but you do have a number of choices for how you pay or arrange for the work to be carried out. You can choose to appoint your own accredited contractor known as a Self-Lay Provider (SLP) to work with you to install the pipework. For more information see our charges information further down this page and we also have a list of approved SLPs working in our area.
Before you start work, we recommend you read the guidance in our How to lay a new supply pipe factsheet, and our Metering Policy for new developments.
All supporting documentation (including your application if you decided to print this off) can be emailed to our Developer Services team at developerservices@seswater.co.uk.
To make an online application, access the form below, or if you prefer, you can also post or email the application by downloading a copy of the 'New Connections' application form here.
If you have an enquiry before deciding to make an application then please contact us using one of the following methods:
Letter: SES Water, London Road, Redhill, Surrey, RH1 1LJ
All quotations are valid for three months and payable in advance.
More information for developers
For information on compliant fittings, lead supplies and sprinkler systems.
Water regulations