Our education programme
As well as treating and supplying our customers with water, we feel it's really important to educate adults and children alike about the value of this most precious resource.
Our education programme
It's essential that as good citizens, everyone knows where water comes from, understands its importance and the pressures our water resources are under.
We opened the doors to our purpose-built education centre in 1999 and since then our education programme has ensured that thousands of adults and children have learned more about the link between their water supplies and the wider environment. The first water company to be awarded the Learning Outside the Classroom Quality Badge – which endorses high quality learning and standards of practice – the free programme has been incredibly successful with feedback being consistently excellent.
We offer a number of FREE options for different audiences within our supply area.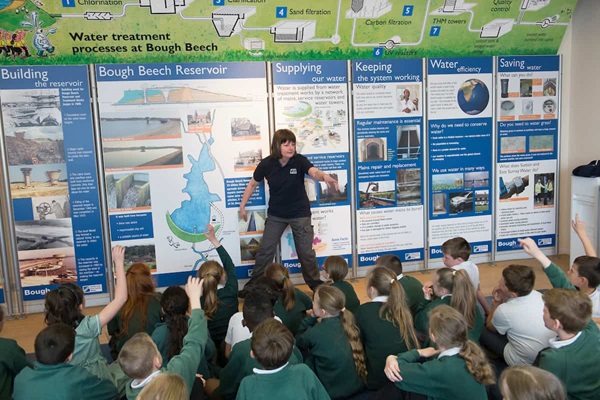 Home-schooling
You don't need to come to Bough Beech Reservoir to learn more about water. Visit www.flow-zone.co.uk for lots of free online resources including interactive games, practical activities, experiments and competitions for the whole family to get involved in.
Primary schools
Our dedicated team of Disclosure and Barring Service (DBS) checked education tutors can support your pupils in learning about water.
We offer a full-day visit to Bough Beech Reservoir where our experts bring the water treatment process to life on a massive scale. Visitors can climb the dam, walk through the tunnel under the reservoir, see the different processes close up and learn how to save water.
Additionally, we can also come to your school to carry out assemblies, interactive talks and we can also help you on your way to achieving an Eco Schools award.
Our programme is constantly evolving and can be modified to suit your particular requirements but possible talks might include:
Key stage one:
Environmental talk – where our water comes from, what might live in the water, why this water needs treating before we can drink it, what we use water for and how to save water, including a simplified practical water treatment demonstration.
Key stage two:
Water treatment – a preparatory talk before a visit to Bough Beech, including a practical water treatment demonstration.
Water: a precious resource - a more general talk for those not able to visit Bough Beech covering the water cycle, current rainfall, boreholes and rivers, water treatment and distribution, water efficiency - why and how, including a short practical water treatment demonstration.
Saving water workshop – maths based activity to compare how much water is used by two families, one are water wasters and the other water savers, to inspire water saving.
All key stage two teachers who book a talk or visit to Bough Beech receive a copy of our educational resource pack full of background information and pupil activities. Pupils will receive either a shower timer or toothy timer as appropriate and a pupil workbook to complete.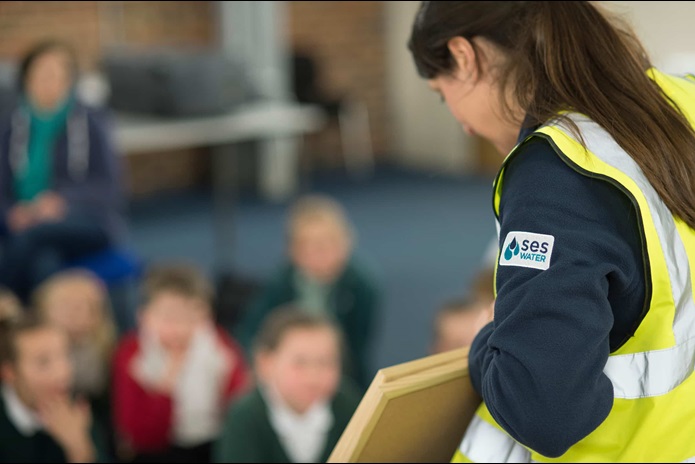 Here's what a teacher from Holland School in Oxted had to say about their visit:
"Teachers and pupils from Holland School have been visiting Bough Beech as part of the education programme for many years.

Not only do the children find it fascinating to see the water treatment process and the equipment that is used, us teachers also take away lots from the visit too!

We were all surprised to learn about how much water we waste each day in this country. It was a real eye-opener and something that will definitely influence my approach to saving water in the future."
Secondary schools
H2Own it! is a student-led cross-curricular project for key stage three and four students which focuses on water usage in the home with an emphasis on understanding the pressures on supply/demand and why the current levels of water use are unsustainable.

It addresses many areas of the national curriculum including geography (water cycle, climate change, current environmental issues), earth and atmospheric science, maths, IT, citizenship and global awareness. Students will also develop independent and collaborative working skills, collect and analyse real data, research and manage their own project, as well as hone their communication and presentation skills.
Another option is the Water Supply Challenge which models the planning involved in water supply and culminates in building a network of pipes and actually transporting water!
Other children's groups
We also welcome requests from brownies, cubs, scouts and guide group leaders as well as other children's clubs and activity leaders.
Adults
We welcome requests from adult groups to visit Bough Beech in the school holidays, as well as offering 'Wise about water' talks for local community groups which cover water efficiency, how to save money and the importance of staying hydrated.
Our 'Family Fun Day' also takes place once a year at Bough Beech where families can visit the reservoir, get involved in lots of activities and learn more about water.
To discuss your requirements email communications@seswater.co.uk or call our Education Co-ordinator on 07824 635581.